Paddling in smooth, grey waters of Clayoquot Sound on a February afternoon, eagles, cormorants and blue herons soaring above in the moody, sun streaked sky, I felt an incredible sense of peace. That kind you get when you feel you're getting away with something and all is right with the world.
Affectionately known as the "end of the road," Tofino's outpost feel and surreal scenery make a winter-weary prairie resident appreciate the 30C temperature spread. It's positively balmy from a deep-freeze perspective. I've been to Tofino in summer, and yes, it's delightful, but winter is the time Tofino is at its most alluring and peaceful. Absent are the hordes of tourists that can strain the local population of 2,000. Sure, the thermometer hovers on average below 10C, but there's rarely snow and plenty of rainy days, which only makes the sight of lush green foliage even more stunning and everything more tranquil. You can strip down to fleece and a windbreaker for walks along driftwood-scattered beaches in near solitude.
Guaranteed you'll find warmth for the soul in this edge-of-the world vibe, addictive food, a spirited cocktail and arts scene in uncrowded restaurants, cafes and local shops and galleries. The residents – collectively known as Tofitians (sounds like Tahitian) – count among them a vibrant clutch of creative souls who must feed off the energy of the crashing ocean waves and forest air, surfing, kayaking or hiking in their spare time. They have that contented look, like they've found some secret formula. We heard more than a few stories of people who came for a holiday and kept putting off returning to where they came from.
There are so many ways to feel like you're cheating winter in Tofino and sneak in lots of beach time.
Hike, paddle, surf
Tofino's coastal location, clutching the edge of the ocean, is an outdoor lover's dreamscape. Forests of enormous cedars, the tops of some looking like they're frozen against the sky, tower over oceanfront hiking trails and secluded coves for kayaking. The surfing is as they say, epic, in winter – the only place in Canada where you can do it year-round.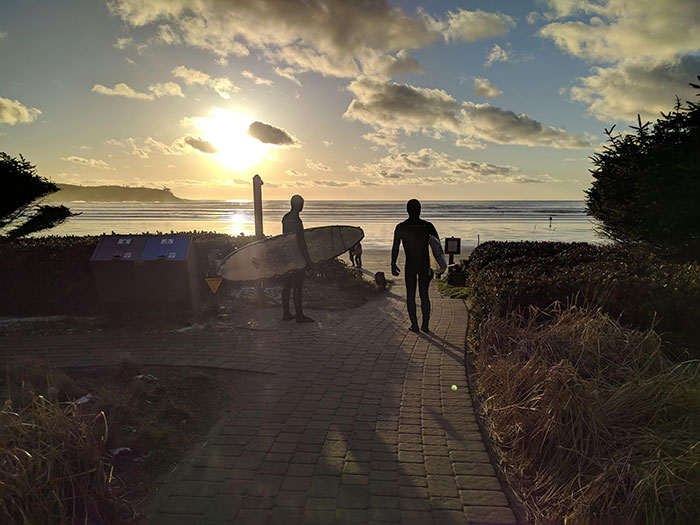 Surf – Surfing virgins, do not pass up the chance to squirm into full-length neoprene and catch some waves. This is officially Surf Central Canada, after all. It's wise to take a class. Pacific Surf Company took five of us to a kook-friendly (a kook is a newbie surfer) at Chesterman Beach. Don't be intimidated if you're new-ish to the sport. Our instructor Adam made us feel completely at ease, even though we were all paddlepusses. We learned the basics on the beach, practising our paddles and popups and then headed out into the ocean to crush it. Well not really. Even if you don't pop up, it's still a blast, bodysurfing to shore in the frothy waves. Lessons typically run three hours. Tofino is also home to Surf Sister, founded by local surfing break-blazer Krissy Montgomery, offering girls- and women-only lessons.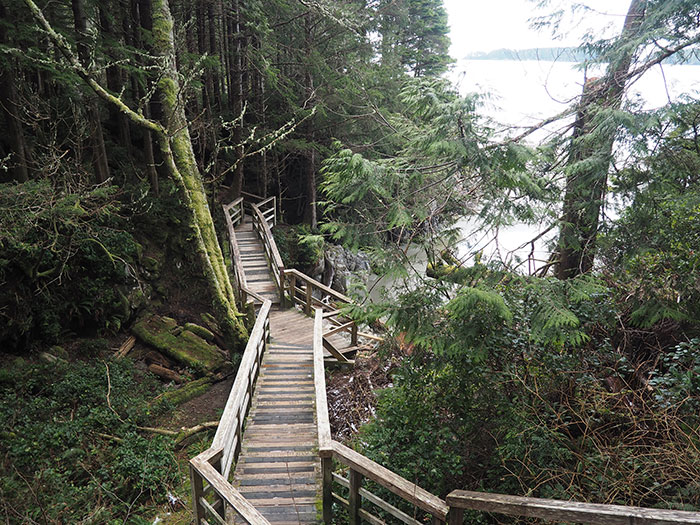 Hike – Ancient coastal forests just beg to be explored. One of the newest places to explore is the Tonquin Trail. Through the trees, you catch gorgeous views of the ocean and the outlying islands on an easy two-hour hike. Knowledgable local outfitters like Long Beach Nature Tours, offer a range of tours depending on what you're looking for. There are dozens of hiking trails in the area which you're guaranteed to have to yourself. Check out the Tourism Tofino website for recommendations.
Kayak – Clayoquot Sound is even more gorgeous from the cockpit of a kayak, floating past inlets and islands of old-growth forests. You can paddle year-round exploring the waters, protected as a biosphere reserve after the region became a flashpoint for logging protesters in the '90s.
You can rent a kayak from a number of outfitters in town or head out with a guide like we did, such as Tofino Sea Kayaking Company. It's an excellent way to learn about the history, flora and fauna and Indigenous culture of the region.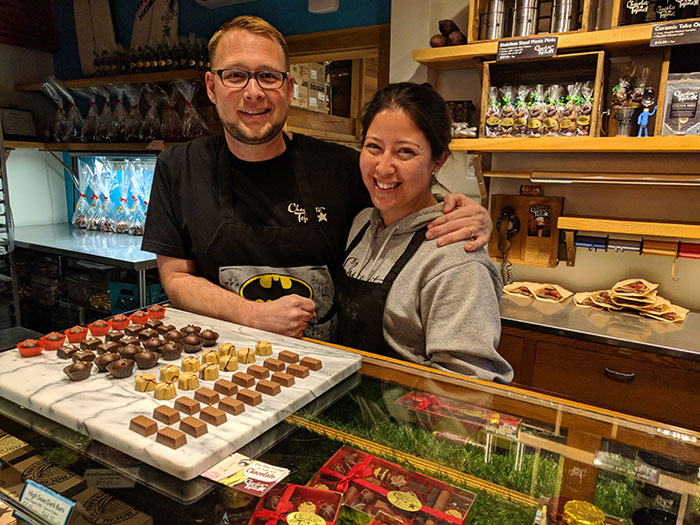 Chocolate Tofino – "We left our snow shovel and lawn mower behind for chocolate and ice cream all day," says Kim Shaw, who along with her husband Cam are the poster couple for those folks who plotted a permanent move to Tofino after vacationing there. The Shaws take their sweets seriously, sourcing their chocolate from a 100-year old Colombian company that is working to incentivize Colombians to grow cacao, not cocaine. Step into the cosiness of Chocolate Tofino and you might feel like you've walked through the doors of a friend's cabin. It's the perfect spot to be on a rainy day. You will be greeted by the intoxicating aroma of cacao, being spun into addictive candies and hot chocolate elixirs. There's hand-made gelato, too. Winter, minus the long lineups that snake out the door in summer, allows you to linger and load up on chocolate carmels or La Maya Truffles infused with Tofino-grown chilis and dozens more.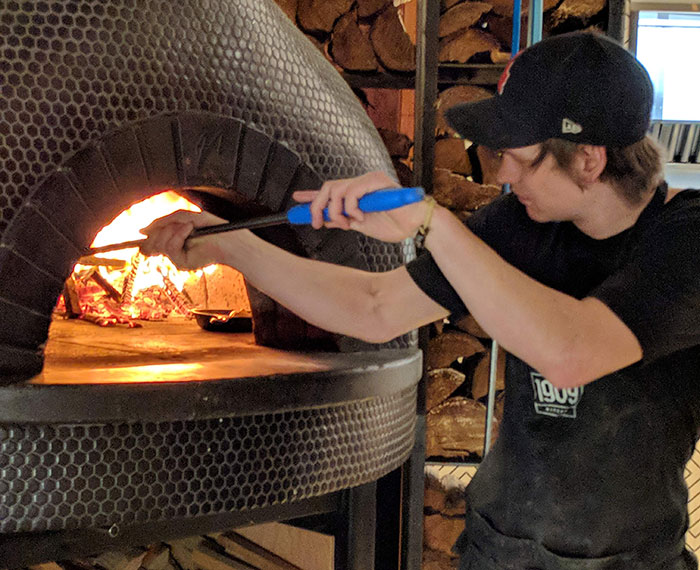 Surf and turf flavours – Sitting around the bar at 1909 Kitchen we impatiently waited for the "Local Catch Pizza." The massive wood-fired oven stoked with local alder wood was toasting to perfection our pies, topped with side stripe shrimp, fresh basil and a smoky tomato sauce. 1909 Kitchen is just one of Tofino's hyper-local restaurants serving up incredibly delectable menus. Young chefs from across Canada have honed their chops at the Wickaninnish Inn and other award-winning restaurants across Canada. On a week-long visit, you could dine at a brilliant array of eateries, including Wolf In the Fog, Shelter, Long Beach Lodge's Great Room and Wickanninish Inn. Favourite local cafés include Common Loaf for baked goods, great coffee and sandwiches and soups and the Tofino Roasting Company for takeout brews and locally made pastries.
Spirits, cheese and charcuterie – It's easy to get into spirit of storm season at the Tofino Craft Distillery, a short walk away at Tofino Brewing Co. The distillery is concocting some fine libations, which you can sample in the tasting room as the shiny stills from Poland work their magic in the background. Four vodkas, straight up and in a selection of flavours, and four gins, one infused with cedar are on offer, plus a boozy menu of inventive cocktails. Order a flight of mini-cocktails (don't shy away from the Tofino Pegasus made with the distiller's Psychedelic Jellyfish Absinthe). Follow it up with a visit to the brewery just down the road with local beers on tap. Then head across the street to Picnic Charcuterie to indulge and shop for hand-made cheeses made by local cheesemaker Tina Windsor and cured meats made by her partner Simon Fraser. The shop's coolers are jammed with deliciousness plus handmade local artisan foods and preserves. You've got the making of the perfect lunch or dinner back in your room.
Stay – There are a range of accommodation options for all budgets in Tofino. We stayed at the Long Beach Lodge Resort on Cox Bay Beach, seven kms from town, a quiet and dreamy spot with 41 rooms and 20 cabins. The highlight is the ocean-front location but so is the lodge's dining area, the Great Room. It's a spot that's hard to leave with tables overlooking the beach and an incredible menu of West Coast inspired food and cocktails. There's also the cosy Surf Club boutique and cafe where you can sign up for surf lessons.
In town, there's the Tofino Resort + Marina, which recently underwent a $9 million renovation. Bonus here is that you're close to Main Street shops and restaurants, but you don't have far to walk to dine with the resort's onsite 1909 Kitchen.
The iconic and luxurious Wickanninish Inn is another option as is the more casual Pacific Sands Beach Resort.
Getting there – It's a scenic adventure getting to Tofino, especially in winter. You can fly in from Vancouver, then head to the South Terminal for a 30-minute flight with Pacific Coastal Airlines. The 19-seater Beechcraft is cosy and everyone gets a window seat, giving amazing aerial forest and ocean views of the coastline.
PCA flies daily in winter, weather dependent and two to four times daily in summer.
Another option is to fly WestJet into Comox, rent a car and drive west for about three hours.
The writer was a guest of Tourism Tofino. Content was not subject to review.
Travel Like This editor Lisa Monforton is an award-winning Calgary-based travel writer. Follow @lisamonforton on Instagram and Twitter.
BECOME A TRAVEL LIKE THIS CONTRIBUTOR. Contact us for details. 
---

The views, opinions and positions expressed by columnists and contributors are the author's alone. They do not inherently or expressly reflect the views, opinions and/or positions of our publication.