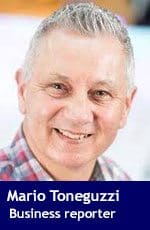 When Jason Smith, the developer of Calgary's only multi-family development in the neighbourhood of Scarboro, Scarboro 17, received his indemnity fee from the City of Calgary, he was hopping mad. 
The fee was $396,250 instead of the $120,000 he thought it was going to be.
That sparked a town hall meeting he has organized for Wednesday night (September 18) for anyone interested in a discussion with business leaders and policy makers to explore issues that either help or hinder business growth and development. The panel will include Smith, Kristi Stuart, co-founder of Barre Belle Inc., Annie MacInnis, executive director of the Kensington Business Revitalization Zone, and Jeromy Farkas, Councillor of Ward 11.
"My excitement of picking up the indemnity contract from city roads turned to absolute shock when I saw the fee was increased to $396,250 to include the newly added $270,000 "excavation deposit" even though this is all taking place on private property," said Smith. "I have heard that Calgary is the only city in North America that requires these excavation deposits."
The town hall takes place at 6:30 p.m. at the Scarboro 17 Sales Centre at 1702 17th Avenue S.W.
Smith said the purpose of the town hall is to bring to light for Calgarians and business owners "the extremely laborious and costly process of doing business in this city."
"In order for me to start this project, it was in the neighbourhood of about $600,000 by the time they were done on costs, and fees and deposits before I could get going. And they weren't communicated and some of them were ambiguous," he said. 
"For a lot of businesses that's crippling. The other main part of it is that for my business, and actually for a lot of businesses, we're doing the city a favour. In my case, I'm providing 52 homes which would then create tax revenue for the next 50 years for the city. Why am I fighting my own city to do that? To create buildings and spaces where people can live and also tax revenue for the city. Why is it so difficult to do business?
Stuart has been a strong voice for small businesses in Calgary and was one of the organizers of a protest rally outside the steps of city hall a few months ago when the business community was in a state of rage over skyrocketing property taxes for some of them.
"Like all Calgarians, business owners have been hit hard in this economic downturn. The cost of doing business has increased to a point where it is almost cost prohibitive to open and operate a business in Calgary, stifling the Entrepreneurial Spirit we are known for. Our city council is about to start budget planning and if they get it wrong again, many of us will be forced to shut our doors for good," she said.
---

The views, opinions and positions expressed by columnists and contributors are the author's alone. They do not inherently or expressly reflect the views, opinions and/or positions of our publication.