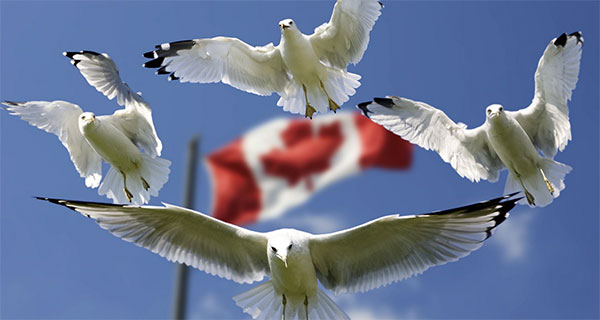 The recently released Canada Revenue Report (CRR) provides fascinating insights into the state of gambling in Canada. It serves as an addendum to the Fantini National Revenue Report, by providing exclusive analysis of the state of lottery games, casino games, online casino games, et al, in each Canadian province. This year's report is slated to be released at the end of Q1, and gambling aficionados are anticipating positive growth across the board. As it stands, Ontario leads the way with strong growth prospects across the Great White North. Revenues of C$7.445 billion were reported in the province, for charitable gaming, lottery games, online games, and traditional casinos. The latest available figures have yet to be released, but current data reflects the following revenue streams generated in 2017:
Saskatchewan $455.810 million, down 3.01% from 2016
Québec $3.66 billion, up 2.12% from 2016
Ontario $7.445 billion, up 12.06% from 2016
Manitoba $536 million, up 2.72% from 2016
British Columbia $3.143 billion, up 1.36% from 2016
Alberta $1.301 billion, down 6.38% from 2016
Atlantic Lottery Corporation (Prince Edward Island, Nova Scotia, Newfoundland and Labrador, and New Brunswick) $760 million, down 2.90% from 2016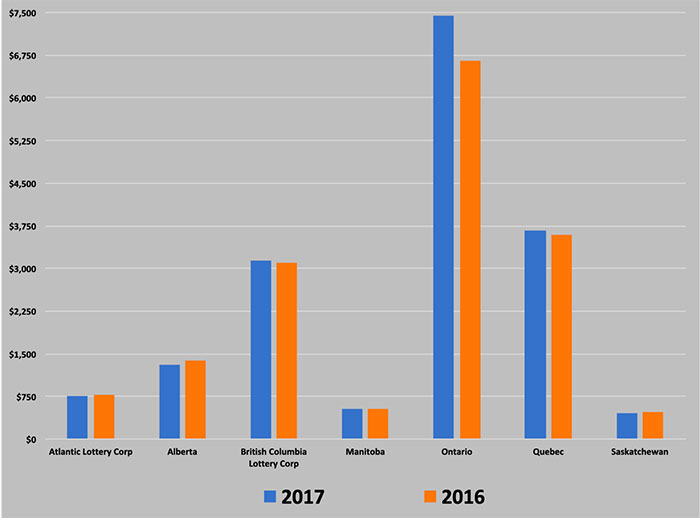 It interesting to point out that Alberta was associated with declines of 6.38% between 2016 and 2017. Up-to-date figures on gambling revenues between 2017 and 2018 are already being compiled, and evaluated for accuracy. This begs the question: has there been a reversal in bricks and mortar gambling activity and online gambling activity in Calgary, Alberta in 2018? To answer this question, it's important to track the performance of key sectors within the gambling industry in Calgary, Alberta. The Canada Revenue Report indicates the following performance figures in the province:
Alberta electronic bingo increased by 1.48% between 2016 and 2017
Casino revenues in Alberta declined by 6.13% between 2016 and 2017
Video lottery terminals in Alberta declined by 6.90% between 2016 and 2017
There is evidence of sustained growth taking place in the electronic bingo industry in Alberta, while casino and VLTs have been marred by sluggish activity. The AGLC (Alberta Gaming Liquor and Cannabis) is tasked with licensing and regulating charitable gaming activity, granting licenses for bingo halls, racetrack licensing, video lottery terminal sites, and casinos, and providing registration for people who operate in the gaming industry, among others. It also serves as an informative resource for all aspects of gambling activity in the province. There are currently multiple casinos and racing centers across Alberta, with the lion's share of them available in Calgary. These include the following regulated operators:
Cowboys Casino – located at 421 – 12 Avenue Southeast, Calgary, Alberta
Century Casino Calgary Inc – located at 1010 – 42 Avenue Southeast, Calgary, Alberta
Grey Eagle Casino – located at 3777 Grey Eagle Drive, Calgary, Alberta
Elbow River Casino – located at 218-18 Avenue Southeast, Calgary, Alberta
Deerfoot Inn & Casino – located at 11,500 – 35 Street Southeast, Calgary, Alberta
Cash Casino Place – located at 4040B Blackfoot Trail Southeast, Calgary, Alberta
Casino Calgary – located at 1420 Meridian Road North East, Calgary, Alberta
Grey Eagle Resort & Casino features an impressive array of progressive jackpots. These include American Original, Diamond Millions, Fortune's Heat, and Jackpot Junction. The casino also provides an array of Three Card Poker games, Ultimate Texas Hold'em poker games, and Slots. The casino currently occupies 84,000 ft.² of luxurious gaming space. Grey Eagle Resort & Casino is home to 900+ slot machine games, 40+ table games, and around-the-clock poker action. Top titles like Blackjack, Baccarat, Tile Pai Gow, European Roulette and American Roulette are readily available to players.
Grey Eagle Casino is also making plans to expand its operations in its gaming area by 288 m². That means that by spring 2019, this land-based casino will offer players an incredible 23,500 m² of space (252,952 ft.²). This impressive casino expansion is due in no small part to the runaway success of the Tsuut'ina Nation's casino operations in 2018. Players at this prestigious land-based casino have carte blanche to enjoy a wide array of casino card games and table games.
The blackjack games are particularly popular, with players able to access a wide range of minimum and maximum bet selections on these strategy-based casino card games. Thanks to the liberalization of gambling legislation in Canada, players can play blackjack online for free at 888casino Canada. More players are turning to demo play blackjack games before venturing off to the tables for real-money gaming with the blackjack dealers.
Strong Gambling Growth in 2018
Thanks to the uptick in gross gambling revenue (GGR) in 2018, strategic plans have been put in place to fast track the expansion. Among the many renovations currently approved are the expansion of the parking lot, road design, additional slots gaming facilities and preference to high roller casino action. The tribal authority's president, Andy Onespot expressed his commitment to corporate social responsibility initiatives. This tribal authority is also looking forward to further growth, thanks in no small part to proposals for Taza development.
The Grey Eagle Resort & Casino opened its doors in 2007, and has enjoyed significant success over the years. Now that high rollers will be prioritized with expanded facilities, income is likely to rise accordingly. Gambling revenue is subject to the lag effect, and will likely only present in coming years. Nonetheless, this is certainly a positive development for Calgary, vis-a-vis employment prospects and support of local communities.
Overall, the AGLC authority is looking to make major changes to its charitable gambling model. On January 14, 2019, a voluntary feedback period was implemented to determine which charities should be eligible for receiving gaming revenues. Between 2017 and 2018, $331 million in charitable donations was raised through the AGLC. According to this regulatory body, some 10,000 charities hold gaming licenses across Alberta, many of them in Calgary.
Alberta is unique in the sense that it allows any licensed charitable organization to manage casino fundraising activities. As it stands, volunteers in Calgary can make up to $200 per hour, with volunteers in Fort McMurray earning upwards of $300 an hour. The wait time for hosting a casino fundraising event in Calgary is around 20 months, significantly less than 41 months in Camrose. Precisely how these proposed changes will impact funds disbursements across Calgary remains to be seen, but changes are definitely coming.
---

The views, opinions and positions expressed by columnists and contributors are the author's alone. They do not inherently or expressly reflect the views, opinions and/or positions of our publication.