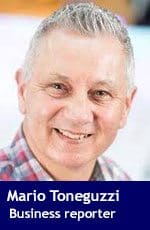 The tourism industries in Calgary and Edmonton are expected to improved this year and the coming years, according to a report by the Conference Board of Canada.
The board's Travel Markets Outlook: Metropolitan Focus report is forecasting solid growth for both Alberta cities.
For Calgary, the report said tourist activity was stimulated in 2018 by the city's hosting of large sporting events and provincial economic strength. Overall, overnight visits increased by an estimated 2.5 per cent and solid growth is expected for 2019 as the Grey Cup returns to Calgary after a decade. The city will also host the Canadian Country Music Awards in 2019.
"Going forward, thanks to solid gains in direct air capacity from the city's foreign source markets, overnight visits to Calgary are expected to expand at a solid pace, averaging 2.5 per cent annually over the forecast period (until 2022), " said the report. "Travel price inflation reached 4.9 per cent in 2018, largely because of increased gas prices. These higher travel prices, in conjunction with gains in visitor volumes, resulted in an increase in overnight visitor spending of 6.5 per cent."
For Edmonton, the growing provincial economy also spurred tourism as overnight visits to the city increased by 2.4 per cent in 2018. Going forward, growth will average 2.2 per cent annually over the next few years, said the board.
"Overnight visits to the city grew by 2.4 per cent in 2018, stimulated by attractions such as the new and expanded Royal Alberta Museum and the recovering provincial economy. Going forward, overnight visits from the city's U.S. and overseas markets are projected to pick up pace and help overall overnight visits to expand by two per cent or higher over the next few years," it said. "Over the longer term, pleasure travel will get a boost as the city co-hosts the 2021 International Ice Hockey Federation (IIHF) world junior hockey championships with Red Deer. With higher gas prices, overall travel prices increased 4.2 per cent in 2018. This inflation, coupled with higher volumes of travellers, led to overnight spending growth of 6.0 per cent."
The number of overnight visits from both within Canada and international markets is projected to increase by two per cent in 2019, said the report.
While Canadian households are expected to face growing economic and financial challenges heading into 2019, domestic travel volumes are still projected to increase.
"According to our travel intentions survey, a growing share of Canadian households plan to take a winter vacation, and among those, a slightly higher share plan to stay in Canada for their longest-duration trip. Meanwhile, growth from the U.S. and overseas markets is expected to strengthen in 2019, as travel price inflation eases and a favourable exchange rate for many international markets remains," said the report.
"Tourism activity in 2018 was weighed down by a number of factors, including rising travel prices, the weaker economic environment and lack of major events like those that happened in 2017," said Greg Hermus, associate director for the Conference Board of Canada's Canadian Tourism Research Institute. "Fortunately, 2019 should see stronger growth in tourism activity thanks to more modest increases in travel prices and easing uncertainty surrounding trade negotiations."
---

The views, opinions and positions expressed by columnists and contributors are the author's alone. They do not inherently or expressly reflect the views, opinions and/or positions of our publication.