Shashi Behl is owner of Joydrop and founding partner of Fernweh Gifts and Goods.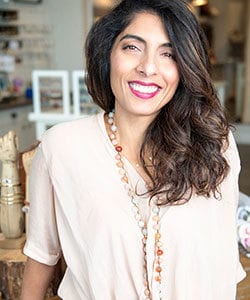 What is Fernweh? When did you start the company and why in Banff? And what do you sell?
Behl: Fernweh is the German word for "longing for a place that you have never been." Fairmont Resorts asked us – I have a partner with this retail banner – to come up with a concept that they could use in their resort hotels.
We wanted to develop a brand that would be as magical as the places that their hotels are situated in. Stumbled across this beautiful word Fernweh and then we developed the gift concept around the word.
We sell a lot of local and Canadian art and giftware, but stay away from the typical moose magnet that you would normally see in a hotel gift shop. We curate beautiful giftware, jewelry and natural bath and beauty products that the clientele of Fairmont Resorts would like to take back from their visit to Canada.
We started the company in April of this year and wanted to do the proof of concept store in their most iconic resort – The Fairmont Banff Springs Hotel. This is a very new company and we are giving ourselves a year to work out all the bugs.
What is Joydrop? When did you start the venture and what do you specialize in?
Behl: Joydrop is the ultimate candy store for women. We sell jewelry and accessories. Really what we want to be known for is a platform for designers – local, national and international – to showcase their designs. We make beautiful jewelry design accessible to everyone. I started this in 2013 and we have our third store just opening in SouthCentre Mall.
You were the founder of Twisted Goods years ago. Are you still involved with the company? What made that retail store so successful?
Behl: Twisted Goods was my first foray into the retail world and it's really where I cut my teeth and truly found that I love retail. We built out that company to seven stores and eventually sold Saskatchewan stores six years ago and then the Calgary stores six years ago.
I'm not involved with the company but the new owner and I are good friends and she is my business partner with Fernweh.
The concept for Twisted Goods resonated with our market. We set out to develop the best gift store, somewhere that you find absolutely nothing that you needed but everything that you wanted. If your girlfriend was down, you were going to find something to pick her up. If you needed the perfect teacher's gift, you would find something that wasn't another mug.
I think why I've been able to come up with relatively successful retail models is that I build what I would like to buy and then tweak for the market. I love the product curation part of retail and putting the story together, watching what people gravitate to, and trying to fill the hole that they want filled
Retail is constantly changing and you have to love learning in order to change with it. That's what keeps is successful. It goes without saying that the people that I've surrounded myself with play a very big part in the success of our companies. They're constantly bringing in fresh ideas and excitement and every day has a little … okay, a lot of fun in it. Once that fun dissipates, the passion dissipates and therefore success diminishes.
I would say that our retail stores are successful because our definition of success lies in the happiness of our customers and our teams. The rest of what is considered 'success' just intrinsically comes because we're doing the right thing for our customers and for our teams.
You have a history of starting up retail stores. Where does that entrepreneurial spirit come from?
Behl: I wish I knew. I do know that I make a lousy employee, so that may be something. I don't like sitting still and just see opportunity everywhere, especially in a city like Calgary where there are entrepreneurs everywhere.
I always look at things in ways that they can be improved on, how can we do it faster, better, for less money.
I come from an immigrant family and I believe that brings out a lot of entrepreneurial tendencies. You have to develop everything you do, right from scratch and make it work. I saw my Dad always solving problems, just to get through day-to-day life. I would say that moving to Canada, small-town Saskatchewan really, was my first taste of entrepreneurialism and then I just kept on trying to solve different problems from there.
I also love change and the only thing that's constant when you own your own business is that you're constantly changing.
What do you think are the key factors in your personality and characteristics that have driven you to success as an entrepreneur?
Behl: The key factor question always seems to come up. For myself I know that I love change and the only thing that is constant when you own your own business is that you are constantly changing. The fact that I'm comfortable being uncomfortable helps a lot.
I also don't really understand when someone says that something can't be done. I just assume that there's a work around and that I will eventually figure it out.
I enjoy working with people and watching them develop their skill set and use it to do great things. All of this has helped me as I continue on this crazy journey of retail.
– Mario Toneguzzi
---

The views, opinions and positions expressed by columnists and contributors are the author's alone. They do not inherently or expressly reflect the views, opinions and/or positions of our publication.