Ruth Alexander is a first-year realtor with Coldwell Banker Mountain Central.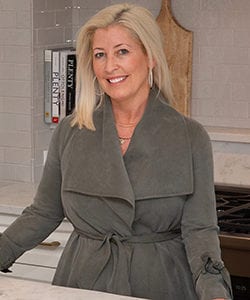 What made you take an interest in real estate?
Alexander: I've spent several years networking and bringing people together for various events and fundraisers. As a former 'millionaire matchmaker,' I also introduced people in the dating game. These positions honed my emotional IQ and my ability to match people with the right people, a skill that's imperative to success in the real estate game.
But it wasn't until I'd gone through a difficult divorce, where I suddenly lost everything, that I was inspired to use social media as part of my survival.
We had two properties awaiting sale. I was a stay-at-home mom out of the workforce for almost 10 years and nobody was hiring. The only option to pay my bills was to rent out these properties until they sold. To find renters, I had to be a quick study on the use of social media. I became obsessed with learning social media and soaked up all I could in order to learn how to expose my rental properties and to find renters. This was key to my survival.
That's when a lightbulb went off – helping others with their own life changes combined with real estate was the most natural evolution for me.
As a real estate agent, how do you relate to what's going through your clients' minds?
Alexander: When people are buying or selling real estate, it is often due to a change in their lives. Some are positives (a new job, a marriage or moving to a new city), while others are extremely stressful (losing a job, a divorce or the kids are leaving home).
I've experienced the joy of living in a luxurious home, as well as the stress of losing it all and being homeless with two young daughters. I had to start my life over from scratch in a down economy. These ups and downs make me relatable. I have a high level of empathy for what clients are experiencing while still having the fundamental understanding that real estate – however deeply personal it may be to an individual – has to remain a professional and non-emotional transaction.
I think my clients appreciate my resilient nature and are confident that I will channel that strength and determination into marketing their properties.
How do you differentiate yourself from all the other realtors in the field?
Alexander: I don't compare myself to other real estate agents. I have tremendous respect for realtors now that I've been actively working in the field.
Younger realtors have many advantages when it comes to the use of technology and social media, but a more seasoned realtor has the gift of maturity and life experience. I would say that my competitive advantage is my combination of these traits. I have rebooted my life and career despite the economic downturn, using old skills in a new way, which brings energy and passion to the job.
This positive attitude coupled with true entrepreneurial grit and social media savvy is the approach I'm taking in real estate.
What are the three most important traits for realtors in this marketplace or for someone who's thinking of joining the industry?
Alexander: Consistency, resilience and creativity will serve you well in this industry.
With so much doom-and-gloom talk over real estate and the economy, you must remain committed to your 'why'. You must have the ability to look at a negative situation and turn it into a motivator and an opportunity. Smart investors buy when the market is down. I'm investing in myself and gaining knowledge during a weak economy so that I'm well positioned for a strong one.
Realtors are competitive by nature, so despite the current economics, the most important trait is the ability to remain positive and determined to succeed. Each client's property deserves a commitment to overcoming obstacles. This is inherent in what it takes to be a solid real estate agent.
Consistency in your use of social media and marketing is key to your success. Finding the right blend of social media and traditional media is an art that's influenced by the audience you're seeking and is unique for each property.
My event planning background has served me well, especially when it comes to organizing an open house for a property. I don't passively use this time to catch up on emails or schedule my week. This is an opportunity to focus on the property and bring it to life. Each open house for me is truly an event, and isn't complete without homemade muffins baking in the oven or a fun property-inspired takeaway bag for each guest. I have a lot of fun with open houses and use them as a way to express my passion for my clients' property. Whether it's a $400,000 home or $4-million home, I provide the same level of luxury marketing, creative open house events, and targeted social media campaigns.
Finally, as a real estate professional it's very important to 'stay on your own mat.' I tell my kids this all the time. As in yoga, never concern yourself with what's happening next to you as much as how you behave. This advice has helped me keep things in perspective and to keep doing the very best I can to perfect my own skills, no matter what kind of market we're in.
How have your losses affected you and what message would you tell everyone suffering in this economy?
Alexander: Losses have to be put into perspective. You must remember there are always worse scenarios and rather than complaining or giving up, find ways to rise above them.
In my situation and in my darkest hours, I looked to my daughters' faces and realized I had to be strong for their sake. I wanted to be a role model to these girls in showing them you can be independent and, most importantly, that you're not defined by your failures and that giving up is not an option, no matter what life throws at you.
I strongly suggest looking to those around you to help find inspiration in your 'why.' With a shift in perspective and a never-take-no-for-an-answer attitude, I managed to secure a number of event and social media contracts that helped get us back on our feet and eventually purchase our own home.
This is when I chose to re-invest any earnings into a career in real estate by registering in the real estate course offered by the Real Estate Council of Alberta and doors have been literally opening ever since.
In real estate as well as in your personal and professional life, it's smart to invest when the market is down.
– Mario Toneguzzi for Calgary's Business
---

The views, opinions and positions expressed by columnists and contributors are the author's alone. They do not inherently or expressly reflect the views, opinions and/or positions of our publication.