James Boettcher is chief idea officer, CEO and custodian of culture at Fiasco Gelato.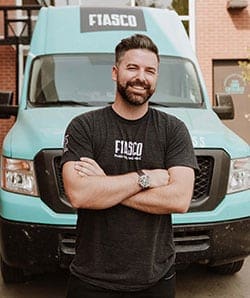 Calgary's Business: How did Fiasco Gelato come about?
Boettcher: Fiasco started as a scoop shop in 2003. I took it over in 2009 with a vision to build something that matters and pivoted the business from storefront to a national brand by leveraging our ability to make the best product backed by legendary customer service, built on passion and purpose.
CB: What separates Fiasco from its competitors?
Boettcher: Ironically, we rarely think of others as competition. We are extremely different in every way possible – from our corporate culture, our product innovation, unique packaging, perseverance and mission to enrich people's lives. That's what makes us different. It would be tough to replicate what we do, as we have spent the last 10 years strengthening our connection to the community, showing up as we do and delivering at a level most brands could only dream of. We are doing business differently.
CB: How has your business grown from inception and what was it like for you during the recent recession?
Boettcher: Our radical perseverance and continuous innovation allows us to grow outside of Alberta and continue to attract new fans to the brand, which allows us to weather the storms of the recession. We also always find a way to 'Yes,' so instead of accepting defeat, we rise to the challenge, try something new, and materialize a result that has allowed us to grow 6,000 per cent since I took it over.
CB: Who comes up with the ideas for different flavours and where are they made?
Boettcher: We all do. That's one of the best parts of the job. If you win MVP for the month, you get to create your very own flavour that goes into our test kitchen and maybe one day will be all the way across the country. We also draw inspiration from industries outside ours, and are constantly pushing the boundaries.
CB: What are your future plans for the company?
Boettcher: To continue to inspire other companies to think differently about the responsibilities associated with existing. You must steward your people well, look after them, push the envelope on what it means to employ people and be deeply involved in the community. As we continue to deliver on this, our growth across Canada and one day into the U.S. will continue to wow those around us and allow us to do even more good.
– Mario Toneguzzi
---

The views, opinions and positions expressed by columnists and contributors are the author's alone. They do not inherently or expressly reflect the views, opinions and/or positions of our publication.
Calgary's Business is a Troy Media Digital Solutions Associate website