Laura Hambley is an organizational psychologist based in Calgary. She is president and co-founder of Work EvOHlution, founder of Canada Career Counselling and president/founder of the Leadership Success Group.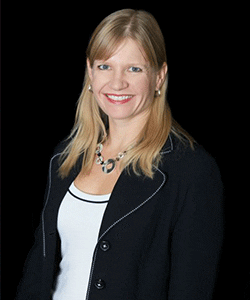 What is Work EvOHlution and what does it do?
Hambley: Work EvOHlution helps leaders, teams and individuals thrive when working apart. We are a team of industrial/organizational psychologists, which is a fancy term for workplace psychology. We help make workplaces and people more productive and engaged. Based on 15 years of research in our field, we've built assessment tools for organizations to better understand and support the human dynamics of working remotely. Whether it's teleworking across the same city or working in a globally-dispersed team, working apart is becoming more common.
Work EvOHlution was incorporated in Calgary in 2014, and was recognized as one of the 50 most innovative new organizations in Alberta. We were profiled in Scientific American magazine for our cutting-edge personality profile of a remote or distributed employee. Our highlights include helping organizations throughout North America and Europe, and presenting at SxSW in Austin, Texas, three times (one of the world's top innovation conferences).
Same question for Canada Career Counselling?
Hambley: Canada Career Counselling is the largest team of registered career psychologists in Canada, helping hundreds of people ages 15 t0 60-plus figure out "what they want to be when they grow up." We help people establish fulfilling career directions and make strategic career-related decisions. As most of our team are registered psychologists, many benefits and health insurance plans cover a portion of our services.
We started in Calgary in 2009 as Calgary Career Counselling, and through our adult career transition and student career planning processes, we've been able to open in other locations including Toronto, Oakville, Vancouver and Victoria. This short video tells what we do best: https://www.youtube.com/watch?time_continue=1&v=dDB8S4u2blo
Calgary has been through some tough economic years. What's your advice for people who may still be struggling to find a job?
Hambley: Yes, it has been a very tough three-to-four-year period. We've seen many people who have been laid off, as well as many who are working in difficult environments and seeking a change. Although the recession has been a huge challenge, it has also been the impetus for many people to re-educate or pivot their career directions. For some, it is the opportunity they needed to do something different in their lives.
As for finding a job, it continues more than ever to be about networking, both in person and online. Applying to job postings alone is no longer enough; building your network and connecting with others, including past colleagues, friends, neighbours, associations, meet-ups and events, are all very important in landing a new job.
Also, contracting is becoming much more common, as are 'portfolio careers,' which enable people to do more than one thing at a time. Thinking differently about jobs and careers, and being more creative in where and how we look for them, are all trends we're seeing at Calgary Career Counselling as well as Canada Career Counselling.
A buzzword these days is people 'reinventing' themselves. What does this mean and is it something that people really need to do in this day and age?
Hambley: Yes, people definitely need to be constantly adding to their skill sets and expanding their networks and experiences. Reinventing can be a full-scale career change, or it could mean expanding oneself through taking continuing education courses or volunteering.
If you are static and doing the same thing over and over, you are at risk of your skills becoming obsolete, depending of course on your industry. With the speed of technology and artificial intelligence, being creative, agile and adaptable are more important than ever.
What are the key things companies and organizations need to do to create better workplaces?
Hambley: Take a step back and listen to what's happening internally. Determine where you are at with your culture and climate: do people want to be there?
Too many organizations don't realize things are bad until the economy turns around and everyone runs for the hills. Right now, it's still an employer's market here in Alberta, but that's quickly going to change. I predict a war for talent in the next 18 to 24 months that will be intense.
It's organizations with positive cultures that will be where people will want to work and no longer will a signing bonus be the only lure. As part of creating a healthy culture, organizations should ensure the right people are promoted into leadership roles, and that people are held accountable for being effective leaders.
The boss's boss has a big role to play here, and far too often he or she isn't aware or isn't willing to take action on leaders who are not effective. Accountability is key and is an important part of growing a great corporate culture.
– Mario Toneguzzi
---

The views, opinions and positions expressed by columnists and contributors are the author's alone. They do not inherently or expressly reflect the views, opinions and/or positions of our publication.