Doug de Nance is a voice artist, skybox announcer and on-the-floor host of live events across the globe.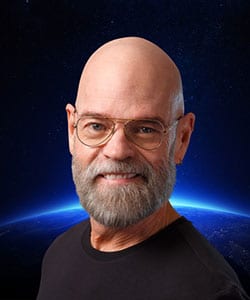 Tell me what you do and the range of services you've been hired to do over the years?
Doug: My brand – When he speaks, it's an event – really covers what I do. I call it voice work. The Coles Notes version: I'm an established voiceover artist, skybox announcer and on-the-floor host of live events across the globe – most notably for monster truck shows.
I call what I do "voice work" for a reason. I've been blessed with award-winning careers in two distinct voice work disciplines. I regularly record voiceover projects – commercials, video and e-learning narration and radio imaging – for clients around the world while performing consistently as a live event announcer, most notoriously, or as I said earlier, notably, as the voice of motorsports entertainment shows.
I think this provides my unique value proposition of giving clients a skill set not typically found in a talent that is strictly a voiceover talent or a live event announcer – that is, a thoroughly experienced, well-trained voiceover professional combined with a live announcer's abilities to quickly adapt and dramatize.
My awards are: 2007 Monster Jam Announcer Award and 2017 Hollywood International Independent Documentary Award of Excellence for Documentary Narration of a Foreign Feature: Antarctica.
What was your background before getting into this?
Doug: Beginning in radio in 1979 as a disc jockey, my on-air announcer experience continued until 2017 when I stopped hosting a voice tracked program called The Rock and Roll Show for the LA Media Group.
Early on, I found that voicing and producing commercials behind the scenes at radio stations was my real joy and that became the foundation of my voiceover career.
I acted on stage as a kid, and that helped hone the dramatics of live announcing and the ability to interpret a voiceover script.
As is often the case with artists, I've had other careers as well. My wife is a school teacher and needed more geographic stability than a radio announcer could provide. So I went into commercial production at the radio station and that led the sales manager to encourage a career in sales. As a result, I was fortunate to market all major medias: radio, TV and newspapers, as well as experience the client's perspective through sports marketing.
More recently, for 14 years I helped create and delivered training primarily for Telus through 2016.
How and why did you get into this line of work?
Doug: I began as a child actor, and first developed my voice through learning to project from the stage. In my early teens, I was fortunate to be awarded a select audio-visual internship in an exclusive three-year program piloted in my school. My first "commercial" voice work began in high school, co-hosting a recruitment video on camera.
My post-secondary education combined business with creative with a Public Relations Diploma from (then) Mount Royal College and then I earned my certification as an Advertising Agency Practitioner from the Institute of Canadian Advertising during two years of weekend sessions at the Banff School of Management.
I still continued my education focus specifically on voice work, too, graduating from the Columbia School of Broadcasting and later the UCLA Voiceover program.
Do you approach voice work differently if it's a live event as opposed to something taped?
Doug: Live announcing, especially motorsports entertainment shows like monster trucks, is the polar opposite of voiceover recording. Live announcing is a lot like old school theatre or even wrestling. It's big, loud and over the top. Voiceover is quiet, intimate and real.
Live announcing requires lots of travel, and a level of fitness to run around and get fans excited – and be able to get out of the way of trucks and motorcycles.
Voiceover is mainly performed in my recording studio in the suburbs of Calgary for clients around the world.
I think the common thread between the two types of voice work is preparation. I think it was George Burns who said "Ad libs are for amateurs."
With live announcing, I like to talk with the drivers and crew, research what they've been up to and develop the story lines for the show.
With voice over, I use a script preparation technique I developed call MIC. First, I look over the script for the mechanics – for example, do I know how to pronounce the words (and what they mean)? Then, I look for the writer's intent – who am I speaking to, why are we saying these words, etc. Finally, I look at character – I mentally put myself in a situation I've lived and experienced with the same emotional intent the character is experiencing in the script (even if the character is named "announcer").
In that same spirit of being ready, I continue to study the craft of voice work – from books and audio programs, to actively participating in courses and classes. I retain private voice coaches as well as a network of mentors, professionals and experts.
What have been some of your biggest and most unique jobs you've done in this field?
Doug: With voiceover, I've voiced thousands of projects ranging from narrating TV shows like Wild Obsession on Animal Planet and Antarctica (2017 Award of Excellence winner for narration), to voicing national commercials like Jeremiah Weed Ice Tea, to international work like the 2015 European Games to narrating documentaries on Turkish National Television (in English).
I've even been cast in movies like A Miracle on Christmas Lake and Everfall as a voiceover actor (not seen on camera – you only hear my voice in the film).
You can hear examples of my work in my demos on my website: https://www.dougdenance.com/demos and you can see and hear many examples on my Doug de Nance YouTube channel – here's a link to my playlists: https://www.youtube.com/channel/UCGVdiYI4lGmePkluiHGsLsw/playlists?spfreload=10
My live announcing career began as a motocross race announcer, so my work has been primarily in the genre of motorsports entertainment. That includes announcing events such as Monster Jam throughout North America, the British Supercross in England, FMX events for the International Freestyle Motocross Association (IFMA) and even Evel Knievel Days.
In Canada, I've announced numerous events such as the Canadian Championship Motocross, Arenacross and Flat Track Motorcycle Racing Series, Monster Spectacular (including their Canadian Monster Truck Championships), Monster Madness (including their World Monster Truck Championships), the Outlaws of Motorsports, Centre of Gravity and crazy, fun stuff like Annihilation Night at Castrol Raceway in Alberta.
While I've appeared as a live announcer in dozens of YouTube videos, this one from back in 2009 probably gives you a pretty good idea of what my weekends are like: http://www.youtube.com/watch?v=vxS_nzmAoL8
Along the way, I've had the chance to branch into live announcing other sports events such as Hard Knocks Fighting and Dekada Boxing (my son, Jay, has taken over that as the announcer). And for many years, I'm proud to have been a volunteer voice for the Mac's Midget Hockey Championships – the most prestigious midget hockey tournament in the world, held in Calgary.
– Mario Toneguzzi
---

The views, opinions and positions expressed by columnists and contributors are the author's alone. They do not inherently or expressly reflect the views, opinions and/or positions of our publication.