Nate Edwards is co-founder and managing partner of Virtuo.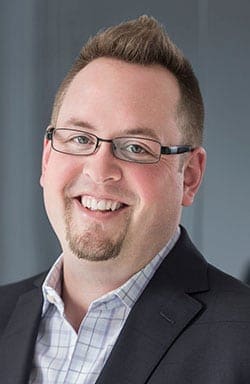 Calgary's Business: What is Virtuo and when was it founded?
Edwards: Virtuo is a tech-enabled customer experience company that makes transitioning and settling into a new home simple and stress free. We save homebuyers more than 40 hours of their time by facilitating everything for them, compliments of our homebuilder partners. Forwarding mail, transferring media, utilities, delivering moving boxes, co-ordinating junk removal, movers, TV mounting, etc.
We started developing our technology in 2015 and have been delivering our experience to homebuyers since early 2017.
CB: How did the idea for this company come about?
Edwards: Our founding team has spent the last 15 years helping some of Alberta's largest companies relocate their employees all around the world. Our primary role was to build out experiences to help the employee assimilate into their new destination as efficient as possible. We focused on removing all of the transitional pain points on the end-to-end journey versus just the move itself. This is where the idea of Virtuo was born.
Moving is a painful, inefficient and overwhelming experience that everyone goes through. Virtuo was founded with the belief that transitioning into a new home should be simple and stress free for everyone, not just executives.
CB: Why are more people thinking of using services like the one you provide?
Edwards: Today's consumer is time-sensitive, and their expectations are shifting quickly with evolving technology and innovation. Time is becoming the most important commodity to a consumer and business models that are radically changing the time equation are winning.
CB: What trends are you seeing in your business?
Edwards: Customer experience has become of one of the most talked about subjects in almost every industry and the homebuilder industry is no different. Those who are investing in customer experience are already realizing the economic benefits, including increased revenue, improved retention, more referrals, less price sensitivity and increased spending by happier customers
They are also establishing the framework for the next wave of millennial buyers who demand technology with an elevated expectation of what their customer experience should be: convenient, fast and simple.
CB: What are some of the strangest or most unique things you've been asked to do?
Edwards: So far, our experiences with Virtuo customers have been pretty straight forward. In our former lives, we've had some very unique requests including family pets, hand-carved carousel animals, livestock, airplanes and firetrucks – all of which we've been able to accommodate.
– Mario Toneguzzi
---

The views, opinions and positions expressed by columnists and contributors are the author's alone. They do not inherently or expressly reflect the views, opinions and/or positions of our publication.