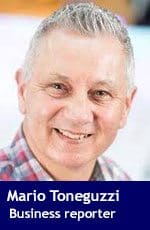 Canada's tourism industry is booming and the federal government says it's having its best year ever.
Tourism activities in the first six months of this year directly accounted for more than $18 billion of Canada's gross domestic product, an increase of more than six per cent over the first half of 2017, said the federal government.
"Tourism is a strong economic driver across Canada, and it supports 1.8 million jobs from coast to coast to coast. Our government is committed to working closely with  provinces, territories and municipalities to promote Canadian tourism in order to create more good quality jobs for middle-class Canadians," said Mélanie Joly, federal minister of Tourism, Official Languages and La Francophonie, in a statement.
"When our tourism sector thrives, it means a better quality of life – in both rural and urban communities – and a stronger economy that benefits everyone."
She made her comments on Tuesday after a meeting of Canada's tourism ministers in Calgary.
"Alberta's tourism sector has experienced phenomenal growth, with more than 35 million visits and a record $8.5 billion in spending. This strong performance demonstrates tourism's ability to diversify our economy, create jobs and generate investment in communities across the province," said Ricardo Miranda, Alberta minister of Culture and Tourism.
"We also recognize that tourism development in Canada is truly a team effort. That is why Alberta has been proud to host this year's Canadian Council of Tourism Ministers and we are glad to work collaboratively with our peers from across the country to help address common challenges and capitalize on opportunities that will enable our tourism economies to flourish."
The government said worldwide, international tourist arrivals grew seven per cent in 2017, the highest increase since the 2009 global economic crisis and well above the UN World Tourism Organization's long-term forecast of 3.8 per cent per year for the period 2010 to 2020.
It said:
Tourism is Canada's largest service export and represents more than two per cent of GDP.

In the first six months of 2018, Canada welcomed a record 8.6 million international tourists, an increase of 1.6 per cent over the same period in 2017.

China is Canada's third largest source of international tourists. In the first half of 2018, Canada welcomed over 300,000 tourists from China, an increase of more than nine per cent over the same period last year.

China is the world's largest outbound tourism market, with 142.7 million trips in 2017. In 2016, Chinese travellers contributed an estimated $1.488 billion to Canada's tourism sector.

The tourism sector represents more than 200,000 jobs for Albertans of which almost 40 per cent are from Calgary.
Mario Toneguzzi is a veteran Calgary-based journalist who worked for 35 years for the Calgary Herald, including 12 years as a senior business writer.
---

The views, opinions and positions expressed by columnists and contributors are the author's alone. They do not inherently or expressly reflect the views, opinions and/or positions of our publication.