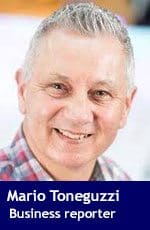 It's no secret that small business owners in Alberta aren't feeling that great with the way the economy is going. And mental health has become a pressing issue.
They're still struggling and coping with the recession of 2015 and 2016, following the collapse in oil prices in the latter half of 2014.
And although the overall economy recovered in 2017 and this year, there remains a lot of cautious sentiment on the part of Alberta entrepreneurs. Confidence and optimism levels are the lowest in Canada.
"Mental health is critically important. Thankfully, we're talking about it more openly and more thoughtfully than ever before in Canada. Here at home, ATB Financial knows it's a struggle for many Albertans, including small and mid-sized business owners, so we decided to focus the latest edition of our quarterly Business Beat survey on the topic," says ATB Financial's Economics & Research Team in a recent commentary.
"Running a business can be a rewarding experience, but it can also be a stressful one with finding and managing staff, and the financial stability of the business cited as key sources of stress."
ATB says 76 per cent of the Alberta small and mid-sized enterprise (SME) owners surveyed say they are, overall, either "very happy" (16 per cent) or "pretty happy" (59 per cent).
"Still, that leaves almost one in four business owners who report being either 'not too happy' (17 per cent) or 'not happy at all' (seven per cent)," says the report.
The survey says just under 80 per cent of SME owners in Alberta agree that their business is at the core of their identity and 71 per cent typically place the needs of their business ahead of their personal needs.
"While 97 per cent of current owners say they're able to cope with the stress of running their business, the survey was not able to include owners of businesses that have gone under as a result of the recession and, in turn, who may be struggling mentally," says ATB.
"Whether it's finding ways to cope with running a business or dealing with the impact of a failed business, seeking support from family, friends and professionals is a good idea, as is working to remove the stigma that still surrounds mental health challenges in our society."
Mario Toneguzzi is a veteran Calgary-based journalist who worked for 35 years for the Calgary Herald, including 12 years as a senior business writer.
---

The views, opinions and positions expressed by columnists and contributors are the author's alone. They do not inherently or expressly reflect the views, opinions and/or positions of our publication.