A coalition of leading companies is hosting an unprecedented hiring fair in Calgary for vulnerable youth.
The first-ever hiring fair is taking place on Friday in the Atrium at City Hall. It's supported by Opportunity For All Youth, a coalition of leading companies in Canada – Starbucks, Walmart, HMSHost, Tridel Corp., The Source and Telus – and the City of Calgary and its Youth Employment Centre.
"This  is a significant moment in our efforts to bring economic opportunity to vulnerable young Canadians," said Richard Derham, lead executive of Opportunity For All Youth. "This unprecedented hiring event featuring employers such as Starbucks, Walmart, Telus, HMSHost and The Source is going to be a significant opportunity to hire and engage hundreds of local youth.
"Nearly one million young Canadians are not in school or holding down a job, according to Statistics Canada. And we … know youth are particularly challenged in the labour market. Those who face one or more barriers to employment can be unemployed at three times the national average or more."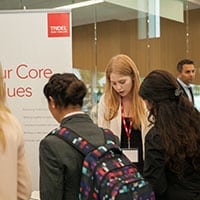 The day-long hiring fair kickstarts a long-term effort to brings jobs and economic opportunity to young people aged 16 to 29 who face systemic barriers to employment. More than 350 NEET (not employed, in education or training) youth are expected to attend to conduct interviews and be connected to the tools and resources they need to become job ready. The hiring fair begins at 10 a.m.
Derham said Calgary is one of the toughest places in Canada for young people looking for work, with youth unemployment rates trending higher than the national average.
"Despite significant government funding and service agency focus, high rates of unemployment and disconnection from education continue for NEET youth. … At the same time, local businesses continue to experience labour shortages and job vacancies. We're coming together with employers, government and community employment agencies to take action to provide jobs and training opportunities to youth who need it most," he said.
Organizers of the event say youth in Calgary have faced troubling long-term trends with unemployment rates now hovering around 15 per cent for those aged 15 to 24 years old.  The city has the second highest unemployment rate in the country at 8.2 per cent.
The coalition's five-year goal is to cut the unemployment rate in this age group across the country and provide employment to 40,000 NEET Youth between the ages of 16 and 29.
"This is an excellent program to increase youth employment and help us to build a better economy where all Calgarians benefit," Mayor Naheed Nenshi said in a statement. "Together, we are creating great opportunities for our young citizens, so they can have valuable experiences that will help them in their future careers."
Michael Conway, president of Starbucks Canada, said the coalition is appealing to the business community to join forces and take action to transform lives.
"Our experience tells us vulnerable youth are a remarkable source of untapped talent and possibility. They consistently demonstrate high engagement and long tenure," he said in a statement.
Mario Toneguzzi is a veteran Calgary-based journalist who worked for 35 years for the Calgary Herald, including 12 years as a senior business writer.
---

The views, opinions and positions expressed by columnists and contributors are the author's alone. They do not inherently or expressly reflect the views, opinions and/or positions of our publication.