Melanie Peacock is sole proprietor of Double M Training & Consulting and is president of the Mount Royal Faculty Association.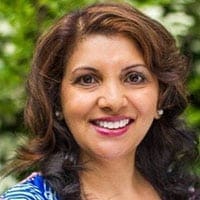 Calgary's Business: How has the role of HR departments changed over the years?
Peacock: Most people talk about how HR departments have become less administrative and more strategic. I've certainly witnessed this, as HR professionals are being invited to the decision-making table on a more regular basis.
While I agree that HR has indeed become more of a valued strategic business partner over the past years, I would say that in the most recent past – I'm noting this as a very recent change and development – HR departments have become more assertive.
What do I mean by this? HR professionals are becoming more vocal, holding all employees accountable for their behaviours and words and not being afraid to speak up. For example, I readily and regularly see great debates and differing opinions my HR colleagues engage in and share over social media. This new assertiveness could also be attributed to the #MeToo movement. HR professionals are now even more aware of the cost – both to employers, to society and to our profession – of a lack of appropriate action or reaction to pressing issues. There seems to be a new boldness to HR.
CB: What are some of the biggest mistakes companies make when it comes with their HR departments?
Peacock: Ignoring their advice. You hire HR professionals for their competencies and expertise, so if you fail to listen to them you do so at your own peril.
Colleagues share that they're frustrated when their ideas aren't put into action and that their knowledge isn't being used in an effective manner. Companies also make poor choices when they blame HR departments for policies and practices.
Ultimately the organization's decisions are made by a company's top management team and HR professionals are there to provide insight, guidance and information. And hopefully, to be one member of this decision-making body.
However, HR professionals shouldn't be used as scapegoats and be made to be seen as enforcers. It's a mistake for companies to put HR departments in a position where they're seen as the enemy and working against employees' best interests.
CB: What are some of the key things HR departments need to do to be more effective?
Peacock: I always encourage HR professionals to get out of their offices. While it's easy to get bogged down in paperwork, true connections and trusting, effective work relationships are built upon the foundation of interpersonal connection. There is a time and place to use technology, but the power of face-to-face conversations must not be forgotten or undervalued.
As well, HR professionals need to remain current and constantly pursue development opportunities. How is this best accomplished? I encourage people to network. Communicating with fellow HR professionals is a tremendous way to stay abreast of current developments, stretch one's thinking, and grow one's competencies and knowledge.
I would encourage people to join CPHR Alberta, to attend Disrupt HR events and to engage with other HR professionals on social media. All of these mechanisms provide terrific opportunities to be connected to other people and will help HR professionals become more effective.
CB: What are employees looking for in a company these days?
Peacock: Simply put, employees want to be respected. How can an organization show employees that they're respected? By providing them with meaningful work, by giving them autonomy and flexibility, by recognizing their contributions and by offering them opportunities for training and development.
Employees also want to be proud of where they work. So a company's reputation, both as an employer and as a business, is critical. Therefore, I continue to encourage organizations to examine their volunteer efforts, their corporate social responsibility programs and their social media presence.
This said, each and every employee has specific motivations. So I encourage companies to be sure that they have transparent and effective lines of communication to and from their employees. It's important for employers to know, and understand, what their employees want and expect from the employment relationship.
CB: What would be your advice for a person contemplating on embarking on an HR career?
Peacock: I would encourage this person to research what a career in HR means. Liking people isn't a good reason to go into HR. While it's important to be interested in people and want to work with and for them, there is so much more to the profession.
I'd encourage a person to get a solid educational grounding in HR, along with some work experience. This will help determine if this is a good fit for a career path. If it is, I'd encourage someone to embrace the challenges and opportunities that they encounter.
HR can be a dynamic, interesting and rewarding career that will bring meaning and fulfilment to one's work. I know for me, it has been life-changing and I feel blessed to be part of the HR profession.
– Mario Toneguzzi
---

The views, opinions and positions expressed by columnists and contributors are the author's alone. They do not inherently or expressly reflect the views, opinions and/or positions of our publication.