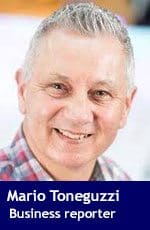 Bow Valley College is collaborating with ATB Financial to develop the new Agile for Product Owners micro-credentials.
The college says Agile has become the management tool of choice for software and product development, as well as everyday work projects in a corporate environment. It added that it also helps manage work phases and regularly checks progress, team requirements, milestones, delays and required changes to keep a project on track.
"Our strategic goal is to provide courses and support that advance learner knowledge at any stage of professional life," said Misheck Mwaba, vice-president of academic at Bow Valley College."This opportunity with ATB means we are able to add more value at the corporate and learner levels by assessing skills and needs, consult and advise the best learning strategy, then deliver the right blend of customized and globally recognized training. Our micro-credentials are an example of how we are listening and responding to what the business community needs to move ahead."
Meriya Dyble, managing director for connected learning at ATB Financial, said the institution is finding skills and certification gaps in its employees, new graduates and job candidates and it's having difficulty filling some roles.
"Teaming up with Bow Valley College will help us build a competency profile and determine what we're working with. Then we can figure out how to better upskill our team. It will also prepare candidates to get their skills in line with what is needed now and in the future," she said.
The college says the micro-credentials or 'badges' represent a specific skill or competency that is verified by Bow Valley College and can be displayed on social media platforms like LinkedIn.
"Micro-credentials are growing in popularity with employers, employees, and job seekers alike as a new way to more accurately and more easily match specific job requirements with skill sets," says the college. "Bow Valley College micro-credentials can be completed at a pace determined by the learner. Once the learner demonstrates the required competency, the badge is validated and issued online to the learner."
The college says the partnership with ATB measures what Agile skills and capabilities current ATB team members possess to help determine if they could grow into this new role, which is difficult to fill. It will also help ATB  identify particular skills and certifications that are needed in future candidates according to their business strategy.
And Bow Valley College will be able to valuate and streamline micro-credentials that "nimbly fit the needs and demands of industry and learners."
Mario Toneguzzi is a veteran Calgary-based journalist who worked for 35 years for the Calgary Herald, including 12 years as a senior business writer.
---

The views, opinions and positions expressed by columnists and contributors are the author's alone. They do not inherently or expressly reflect the views, opinions and/or positions of our publication.