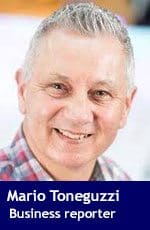 Calgary-based ATCO is expanding its global infrastructure portfolio with the acquisition of 40 per cent of Neltume Ports, a leading port operator and developer in South America, for $450 million.
The company said Neltume Ports, a subsidiary of Ultramar, operates in 16 port facilities and three stevedoring businesses primarily located in Chile and Uruguay.
"This acquisition represents an important milestone in the execution of ATCO's long-term strategy to diversify and complement our portfolio of existing businesses and geographies in industries that are fundamental to global growth and prosperity: housing, real estate, energy, water, transportation and agriculture," said Nancy Southern, chair and  chief executive officer with ATCO, in a statement.
"We are excited to announce our investment in Neltume Ports, which further builds and strengthens our existing partnership with Ultramar. Both of our companies view South America as an area poised for significant growth."
Neltume Ports, headquartered in Santiago, handles nearly 51 million tonnes of product annually, including copper, forestry products, consumer goods and agricultural products, and employs about 3,900 employees.
"After a competitive sale process, we are proud to announce ATCO as our strategic partner – a partner with shared values and cultural fit with Ultramar," said Richard von Appen, chairman of Ultramar, in a statement. "We have defined a growth strategy with both sizable and attractive opportunities that support the company's long-term regional development. This agreement reaffirms Neltume's commitment to the port sector and represents a great opportunity for ATCO to meaningfully contribute to the company's growth plans in a highly dynamic South American infrastructure market."
ATCO said it will fund its investment in Neltume Ports with a combination of cash on hand and funds from committed credit facilities, and later refinance a portion through a capital markets transaction.
"ATCO will acquire a 40 per cent interest in Neltume Ports through the issuance of new shares from Neltume Ports. Funds from ATCO's investment will be used by Neltume Ports to finance opportunities for growth. The acquisition is expected to be accretive to ATCO's earnings per share in the first full year of ownership, as well as deliver sustainable profitability through the execution of Neltume's growth plans," said ATCO.
Mario Toneguzzi is a veteran Calgary-based journalist who worked for 35 years for the Calgary Herald, including 12 years as a senior business writer.
---

The views, opinions and positions expressed by columnists and contributors are the author's alone. They do not inherently or expressly reflect the views, opinions and/or positions of our publication.