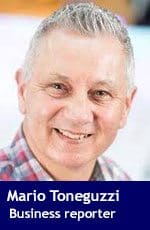 A new report by Scotiabank Economics says Alberta real gross domestic product growth is expected to ease to an average of about 2.5 per cent during 2018-19 after last year's 4.9 per cent surge.
That reflects a stronger rebound than anticipated following the 2015–16 recession, and total output is now projected to surpass its 2014 peak by 2019.
The report, released on Tuesday, said private-sector investment and exports will increasingly drive the economic expansion in the province as last year's spike in Fort McMurray reconstruction-related housing expenditure fades and infrastructure spending slows.
"Alberta's demographics remain more conducive to growth than most other provinces, with elevated incomes and relative housing affordability bestowing it a competitive advantage amid changes in the energy sector," said the Scotiabank report.
"Oil production, Alberta's proverbial bread and butter, is expected to rise by five to 10 per cent this year thanks to oil sands projects approved prior to the 2015-16 recession. The Fort Hills mine yielded first oil in January and is scheduled to reach 90 per cent of its 194,000 barrels per day (bpd) nameplate capacity by year-end. The Phase 3 expansion project, completed late last year, added 80,000 bpd of production capacity at the Horizon mine.
"We look for more modest oil production gains approaching five per cent in 2019 as construction wraps up on several smaller in situ expansion projects We expect growth in oil sands investment to be subdued this year before turning moderately higher next year. No major projects are waiting in the wings for 2018."
The report said job creation in Alberta is forecast to accelerate to 1.7 per cent this year – an upward revision from early-year forecasts – and ease to 1.2 per cent in 2019; the latter advance will lead the provinces.
"A minimum wage hike of over 10 per cent in October should boost weekly earnings for payroll employees in Alberta – already the highest in Canada at $1,130 in 2017. The pace of wage growth should diminish only slightly next year given continuing skills shortages in some industries," said the report.
"Healthy population gains in the 1.5 per cent range forecast for 2017-18 and 2018-19 also pose a floor under consumer expenditures as monetary stimulus is withdrawn. The net outflow of more than 30,000 migrants to other provinces from Q3-2015 to Q2-2017 is reversing and should remain modestly positive through 2019 with the energy sector recovery improving Alberta's attraction.
"Though demand fundamentals are strengthening, Alberta's housing inventory overhang should dampen residential construction and price gains."
Mario Toneguzzi is a veteran Calgary-based journalist who worked for 35 years for the Calgary Herald, including 12 years as a senior business writer.
---

The views, opinions and positions expressed by columnists and contributors are the author's alone. They do not inherently or expressly reflect the views, opinions and/or positions of our publication.