A poll commissioned by the Smith School of Business at Queen's University found that 31 per cent of Calgarians working in the oil and gas industry would like to land a job or set up a new business in the financial technology/technology sector.
Other key findings of the poll include:
men ages 35 to 44 are most open to working in fintech (28 per cent), followed by those who are between 55 and 64 years old (22 per cent);

27 per cent of male respondents expressed interest in making the move to fintech/technology, while only 14 per cent of female respondents said so;

only 23 per cent of respondents are familiar with fintech;

78 per cent believe that Calgary has the potential to be the next innovation hub in Canada.
Stephen Thomas, director of the Master of Management Analytics and Master of Management in Artificial Intelligence programs at Smith School of Business, Queen's University, said Calgary possesses the right talent to pivot and diversify its economy to other sectors beyond oil and gas.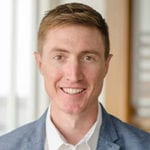 "Back in October 2018, Smith commissioned a poll of 800 Calgarians to get a sense of how they feel about the city's economy and what kind of jobs they are looking for in the future. Among those respondents, three-quarters believe that Calgary has the potential to be Canada's next innovation hub. Additionally, 78 per cent also said they would consider looking for a job or setting up business outside the oil and gas industry. So, the appetite is there for the city to diversify its economy," said Thomas.
He said technology and entrepreneurship have potential for growth in Calgary.
"Technology is changing every industry, including oil and gas, and being considered for every function within organizations, whether it be operations, human resources, marketing, customer experience, or accounting and finance," said Thomas. "A recent study found that jobs related to artificial intelligence and analytics have doubled in the last 18 months and there just isn't enough supply of talent right now. I think you're going to see more startups launching and moving in and bigger companies also moving in – like IBM's recent push into Calgary with its new innovation space."
Over the past few years, thousands of oilpatch workers lost their jobs. Some remain out of work. How can they go forward in Calgary's new economy?
"Workers looking to gain a foothold or move forward in Calgary's diversifying economy should consider continued education. Whether it's a two-day executive education program, an online certificate, or a master's degree in artificial intelligence, analytics, computer programming, etc., these skills will better position Calgarians for the new economy and the future of work. A lot of people with engineering backgrounds will have the quantitative background that they can build on in learning these analytics and artificial intelligence skills," said Thomas.
"Alberta's recent announcement that it is will invest $100 million over five years to attract investment from artificial intelligence focused tech companies is a move in the right direction. It will start the ball rolling, attracting new companies and creating a cycle of innovation.
"Based on a poll commissioned by Smith in October, 35 per cent of Calgary residents feel that a lack of government incentives/tax credits to foster tech startups is a top challenge for the city becoming an innovation hub. Twenty-four per cent also feel that there is lack of access to capital for tech startups. Enhancing what is available in these areas and/or increasing awareness around what is available would be helpful. Incentives to assist Calgarians in their efforts to retrain and equip themselves with the skills they will need for the future workforce could be another consideration."
– Mario Toneguzzi for Calgary's Business
---

The views, opinions and positions expressed by columnists and contributors are the author's alone. They do not inherently or expressly reflect the views, opinions and/or positions of our publication.