The soaring vacancy rates in Calgary's downtown office market have been the source of much headline news in the past couple of years, since oil prices began their collapse in the latter half of 2014.
That led to thousands of jobs being axed in the corporate core of the city and two years of a recession.
A research report by commercial real estate broker Newmark Knight Frank Devencore vice-president Michael Gigliuk shows just how bad it's been for the lower end of the commercial real estate market.
The overall downtown vacancy rate ended 2017 at 25.3 per cent, from 22.6 per cent in the fourth quarter of 2016. The report says the vacancy rate is 9.6 percentage points above the previous recessionary high, 15.7 per cent in 2009, and 3.5 per cent above the previous historical high, 21.8 per cent in 1992.
Gigliuk broke down the vacancy numbers by building class:
AA, 19.9 per cent;
A, 20.1 per cent;
B, 35.3 per cent;
C, 35.3 per cent.
Out of 153 buildings in the central business district, here's the breakdown by class:
AA, 23;
A, 30;
B, 21;
C, 79.
Gigliuk describes the downtown office market in 2017 as lacking direction.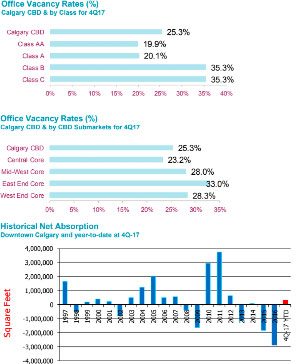 "Waiting for the change to come. Waiting for things to improve. Really keeping an eye on the world price of oil and the differentials. And nothing really happening. No direction developed," says Gigliuk.
"Oil and gas firms are in a holding pattern. What I'm finding is the high tech, new economy types of businesses that are headquartered in Calgary seem to be doing well, especially the ones that took on a global perspective."
John Savard, principal, office leasing specialist with Bedrock Realty Advisors Inc., says tenants who had a line of sight on their long-term income streams in 2017 took advantage of low office rents and took out leases for as long as they could, signing seven-to-15-year-old deals.
"I don't see anyone willing to pay economic rents," he says. "We saw a lot of activity but that activity was based upon flight to quality. New sublease space coming to the marketplace. Unfortunately, I don't see that the market has turned a corner yet."
He sees 2018 being a continuation of 2017 with a flight to quality being the trend.
A couple of interesting charts by real estate firm Cresa also shed some light on percentage of vacancy in the downtown and leasing rates.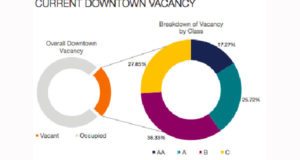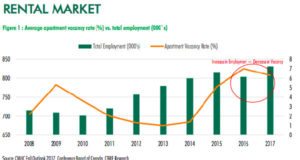 Respected business writer Mario Toneguzzi is a veteran Calgary-based journalist who worked for 35 years for the Calgary Herald in various capacities, including 12 years as a senior business writer.
---

The views, opinions and positions expressed by columnists and contributors are the author's alone. They do not inherently or expressly reflect the views, opinions and/or positions of our publication.