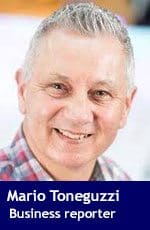 A new technology council has been launched by the Alberta government in an attempt to grow the sector in the province.
Brad Zumwalt, a Calgary-based venture capitalist and CEO of Zinc Ventures, will co-chair the council with Rod Skura, deputy minister of Advanced Education.
The province said the 16-member Talent Advisory Council on Technology is tasked with advising government as it invests in necessary tech training and education to grow Alberta's tech sector. It will provide advice and input on strategies, investments and outcomes on tech-related training programs.
"It's an honour to be selected as co-chair of TACT, and to be able to use my extensive industry knowledge to help guide the government toward continued success in the tech sector. I care about the future of the tech sector in Alberta and I'm glad the government is committed to helping it succeed and grow," said Zumwalt.

Marlin Schmidt, minister of Advanced Education, said the government wants to make sure students entering universities and colleges have the best possible chances at success.
"Our economy is changing rapidly, and we must continue to ensure that our post-secondary training programs keep pace. With advice from our impressive TACT membership, I know we can continue to offer Albertans the high-quality, innovative training programs needed to succeed in our new and diversified economy," he said.
The council consists of:
Myrna Bittner, co-founder, RUNWITHIT Synthetics

Barbara Carra, chief operating officer, Cybera

Aaryn Flynn, independent consultant

Evan Hu, chair, Calgary Technologies Inc.

Tara Kelly, president and CEO, Splice Software

Stephen Kenny, founder and president, Above and Beyond

Sharon McIntyre, co-founder and process lead, New Cottage Industries

Mashhood Qazi, senior project manager, City of Calgary

Robert Saik, founder, Agri-Trend group of Companies

Robert Andruchow, chair, department of art and design and assistant professor, MacEwan University

Dru Marshall, provost and vice president academic, University of Calgary

Nadia Ady, PhD student in computing science, University of Alberta

Stefan Radeta, undergraduate student in computer information systems, Mount Royal University

Anthony (Tony) LeBel, United Steelworkers (USW) Local 1944
Mario Toneguzzi is a veteran Calgary-based journalist who worked for 35 years for the Calgary Herald in various capacities, including 12 years as a senior business writer.
---

The views, opinions and positions expressed by columnists and contributors are the author's alone. They do not inherently or expressly reflect the views, opinions and/or positions of our publication.
Calgary's Business is a Troy Media Digital Solutions Associate website